Metallak ATV Club is located in Northern New Hampshire. Our goal is to help connect the trails of the Northern NH ATV clubs. Part of our trail system includes a trailhead at Coleman State Park over Sugar Hill to the Balsams and over Dixville Peaks and Nathan Pond trail connecting to Greenough Pond Road and The Millsfield Club trail system. We opened the Rail Trail between Colebrook and Stewartstown in 2013 and The towns of Stewartstown , Colebrook , and Columbia have decided to open some roads and streets to accommodate ATVs to access area businesses and to connect trails.
The riding season is nearly 6 months and gives an experience like no other for recreational riders throughout Northern New Hampshire. This opportunity is made possible by landowners, sponsors, members, and volunteers.  Please follow all signage and respect our Landowners.  Know before you go!
If you are interested in riding or helping our club in some way, please contact us, or Follow us on FACEBOOK.
ROAD CLOSURE:  MONDAY, AUGUST 7, 2023  — Harvey Swell Road to Bear Rock Road junction, south to Cree Road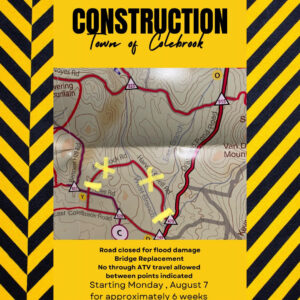 Closed for Maintenance – Still in Effect:  Dixville Peaks trail. Gates will remain  closed at windmill end and at the Nathan Pond / Sugar Hill end until maintenance is  completed.  Please plan accordingly.
Stay tuned to our Facebook page and  here for further updates.  Please ride safely and with respect for our landowners.
Officers
President:
Craig Washburn
Vice President:
Darren Little
Secretary:
Sheila Beauchemin
Treasurer:
Katie Collins
Trail Admin:
Mike Ouellet
Directors
Darren Little
Lloyd Howe
Arthur Beauchemin
Glenn Perry
Mike Collins